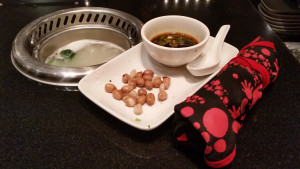 If you hear of turkey, cranberry sauce, mashed potatoes and yams, you'd be readily forgiven if your next immediate thought is about harvest, football and Thanksgiving.
Thanksgiving in the United States and Canada is one of the tentpole holidays during the year. They're big. They have a lot of cultural signficance. They have very distinctive cuisine that goes along with them.
From an Asian perspective, the Lunar New Year is a big deal. While I have no idea how much significance it has for other families, in mine, Lunar New Year is almost synonymous with hot pot.
What is hot pot?
At its very core, thinly-sliced, bite-sized pieces of food cooked at your table by dipping them ino a pot of boiling liquid, usually some kind of stock, and accompanied by dipping sauces.
For Chinese Lunar New Year, tonight, I had the pleasure of visiting Hai Di Lao in Arcadia, CA, with one of my best friends from college. Hai Di Lao is a multinational restaurant with locations in China, Singapore and the US.
If you've never had hot pot before, this is a great place to get your feet wet. The staff are great at guiding diners new to the experience and they seem to be very well geared toward the first time hot potter.
There's a bar and a nice little outdoor area with games where you can wait for your table, though we were lucky to go right in.
The menu is completely iPad driven, which makes for great pictures showing you all of your choices, with easy combos to make things simple if you don't want to go through the minutiae of individual plates. If you're not familiar with Chinese ingredients, this is definitely to your benefit.
… cuz there's some weird stuff out there, though there aren't too many weird things on this menu.
The first thing you get once you're seated is a bib. It looks dorky, but I highly recommend it. The soup can get pretty splashy as you're moving things in and out of it.
As an eyeglass wearer, I was really surprised when they also provided me with an eyeglass cloth, and a pretty nice one at that. This would be invaluable later when I decided to stick my head over the pot and steamed up my glasses into a self-imposed white-out condition.
Keeping things simple, we ordered the seafood and beef combo. It came with a platter of shellfish (clams, mussels, shrimp), squid, and fish cake. We thought it was also supposed to have fillets of fresh fish, but they were conspicuously missing.
The beef half of the combo was called Supreme Beef. I honestly couldn't tell what cut of beef it came from, but it was moderately marbled and tasted pretty good.
As with all the others, this combo also included a veggie platter with noodles, lettuce, carrots, frozen tofu, enoki mushrooms, and black wood fungus.
Okay, so maybe it's a little weird?
Let me say this about the most unusual things mentioned so far:
The black wood fungus is a little crunchy, but has some give, too. It's like a cross between a mushroom and a carrot texture-wise. In flavour, it's not very strong. In that, it's like a mushroom: it sucks up whatever flavour you give it.
The frozen tofu is interesting and different from regular tofu in that the freezing process gives it a kind of bubble-pocked texture that opens up more space for the soup to seep into it. Awesome stuff.
The food was good and I really appreciated the individual pots of soup at Hai Di Lao, which differs from other hot pot places where the soup is communal.
The other thing that sets Hai Di Lao apart is the sauce bar where you can create your own tailor-made concoction of dipping sauces. (While you're there, grab some of the freshly-boiled peanuts. They aren't your typical roasted peanut.)
Probably the most special offering, though, are the Dancing Noodles. I have a personal mission to find hand-made noodles and especially hand-pulled noodles and the Dancing Noodles were the closest I've found to the show and the delight in my mouth that I was looking for.
This is definitely worthy of inclusion in the table+ink "Star Tours" of eating in the Greater Los Angeles Area.
Hai Di Lao
400 S Baldwin Ave (Promenade level of Arcadia Westfield Mall)
Arcadia, CA 91007
626.445.7232
http://www.haidilao.us
http://www.yelp.com/biz/hai-di-lao-hot-pot-arcadia